Chinese-born designer Yiqing Yin making a name for herself in Paris
With six collections a year to take care of, Yiqing Yin, the recently appointed creative director of French heritage brand Léonard, has never been busier, writes Elisabeta Tudor
PUBLISHED : Monday, 05 May, 2014, 9:42am
UPDATED : Monday, 05 May, 2014, 7:06pm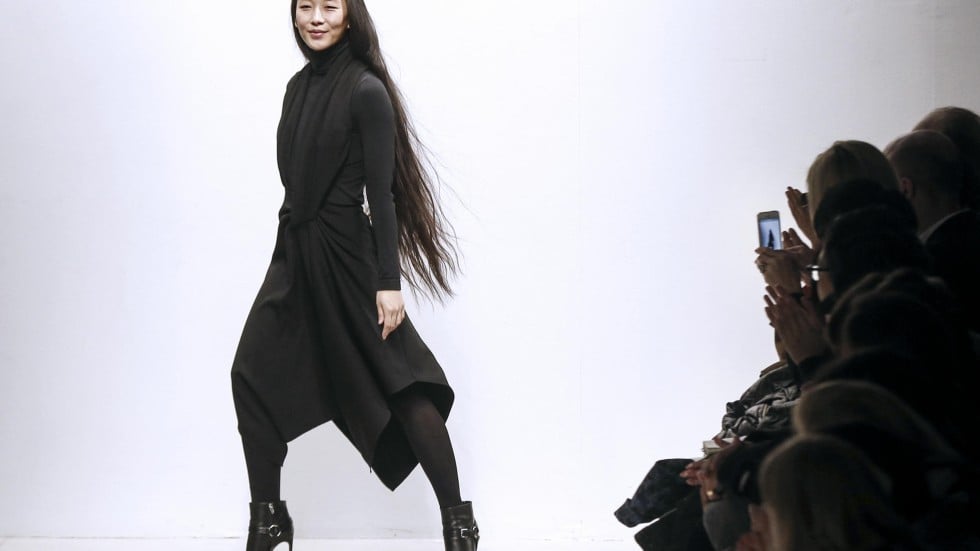 A smiling Yiqing Yin apologises when we meet for the "mess" of her Parisian headquarters, which actually seems quite ordered and clean even though it's only a few days before her first ready-to-wear show for French heritage brand Léonard.
The Chinese-born, Paris-raised designer is on a tight schedule. Not only is she showing her haute couture twice a year in Paris, she also works on her own ready-to-wear line and recently showcased her first collection for Léonard as the brand's new creative director.
I constantly explore as I want [my own collections] to be boundary pushing, fresh and young
That's a total of six collections a year, so you might wonder how she copes with the workload. "It's all about staying focused and having a well-organised team around you," she says. "It's true that the frantic rhythm of ready-to-wear is new to me, as designing couture has always been my main focus. It is a unique and personal process, and is designed according to a woman's personality. But juggling both is a great experience, even if haute couture and ready-to-wear require a completely different approach on design and work rhythm."
How did the twenty-something designer get into this position so young? In recent years, The Chambre Syndicale de la Haute Couture (the French Federation of Haute Couture and Ready-to-Wear) has made a move towards a more contemporary take on haute couture, aiming to revive this French institution by inviting a few hand-picked designers and independent labels, such as Rad Hourani and Serkan Cura, to showcase their couture collections on the official calendar. Yin was one of the few who made the cut, having caused a lot of ink to flow in the years following an endorsement from Didier Grumbach, the Chambre Syndicale's president, after she was awarded the Andam Prize for First Collections in 2011.
"It is an honour to have the support of the Chambre Syndicale and at the same time a challenge," says the designer, who was elected as a guest member to the haute couture calendar by the institution's supervisory board in November the same year.
As an alumni of the École Nationale Supérieure des Arts Décoratifs in Paris, Yin was able to seduce the board with her highly conceptual take on haute couture, that mingles both traditional craftsmanship and an innovative and yet serene approach to the garment. While respecting the required expertise of the haute couture appellation, Yin made a name for herself by twisting the aesthetics with innovative elements and techniques, and was therefore able to revive traditional craftsmanship in a contemporary way.
"In my own collections, the haute couture appellation is reflected through my take on craftsmanship, [and] that I constantly explore as I want it to be boundary pushing, fresh and young," says the designer, adding that her style can be summed up in three words: grace, movement and paradox.
Her creations embody these guiding threads and express sensuality and fragility. She does this through feminine cuts and shapes, and experimenting with garments - in her own words, "a sensory wandering and the search for voluntary accidents" - using custom-made fabrics and innovative techniques such as smocking, liquid organza, embroidered resin, tie-dyed batik and Alcantara laser cut, among others.
"We use traditional embroidery techniques and invent others," says Yin. "For us, couture is an experimental laboratory. We embroider common materials with rather luxurious ones, such as medical gauze, which we elaborate with node points and pad with fleece that is usually only used for the lining of clothes, but we use to embellish the surface of our garments."
Nature plays a role in her hi-tech approach to fashion. "The creative power of nature fascinates me," she says. "Its fragility, its organic forms, the impact of light and its mineral surfaces … I try to bring all these elements together in my collections by playing with the aesthetics of movement and draping, creating nature-inspired forms that transform the garment itself."
But her primary aim is to create garments that function like "soft armour", protecting and reinforcing a woman's silhouette like a second skin. "When I work on a silhouette, I build it according to the body shape, like an armour or fluid shell," she says, adding that the woman who wears her clothes is nonchalant, "a
flâneuse
; a medusa of modern times with a casual state of mind who feels at great ease with her self."
Her current spring-summer 2014 and latest and much-praised autumn-winter 2014-15 haute couture collections epitomise this approach. "[The latter] is a collection inspired by two worlds - seabed and madness," says Yin. "The seabed stays for the visual elements and the textures that we created. We tried to mimic various intriguing seabed ecosystems... It's about elements that are contaminating and devouring the body so as to look like a second skin."
One wonders how Yin applies her wildly creative concept of womenswear to daily life and business. Stocked in major retailers and fashion stores worldwide, including 10 Corso Como in Milan and Seoul, Saks Fifth Avenue in New York, Joyce in Hong Kong and Beijing, and Montaigne Market in Paris, her creations have proven commercially successful.
Perhaps it was also this that attracted French heritage brand Léonard, which eventually asked Yin to take over the creative director's role for the fall-winter 2013/14 season.
Yin has a clear understanding of the brand's evolution and went through Léonard's several thousand archived prints, reinterpreting several of them while respecting the French brand's love for opulence, but with a keen eye on urban wear.
"Léonard has plenty of interesting archives to source from, especially when it comes to prints. I want to reinterpret these prints, give them a new life by applying them on more edgy shapes and redesigning them with new colours. I want to move away from the ladylike silhouettes and create something that explores the state of now."
And who could be more capable of pushing boundaries while maintaining a sense of elegance? Yin's name is now deeply rooted in both the industry and Léonard's heart, and she is there to stay.
This article appeared in the South China Morning Post print edition as:
Cutting it fine
We recommend for you
Meet the 20-something women who are shaking up Hong Kong's bar and…
Chinese company offers apology over 'racist' advert, but it doesn't…
Hong Kong's Top Junk Caterers
Stop buying all those handbags and shoes, Hong Kong – the price is…
Five things we hate about taking a Hong Kong taxi
Newly opened Little Tai Hang in Tai Hang serves upscale comfort food
Angry young man throws away shoes of barefoot Chinese traveller…
Why some Chinese students struggle at universities in the US
Baby bison dead after tourists put it in their car because they…
Calgary man found not criminally responsible for stabbing to death…
Most Popular
SCMP Recommends (Last 24hrs)
June 4 vigil organiser estimates 125,000 at Victoria Park as speeches and stage incident mark event
Cruise boat sinks on lake amid strong wind gusts
'Magic' diaper device just one invention helping to put Chengdu on innovative start-up map
Illegal poaching, logging and mining industry is worth up to US$258 billion a year, UN report says
Crying big tears over those vain private jet business travellers
Can endurance sports training damage the heart? Scientists can't agree
Letters to the Editor, June 5, 2016
2016 Venice Architecture Biennale shines spotlight on users of buildings
Around The Web
The Top 8 Venues to Hear Amazing Music in Fort Worth
Pay Off Your Credit Card Balance Faster Using This One Trick
The Easiest Healthy Breakfast Ever
United States of Pizza: The Best Slice in All 50 States