How a newborn in a crammed elevator affected the girls' basketball national championships
The elevator door at the Arizona Grand Resort in Phoenix opened slowly, revealing -- second by second -- person after person.
Eboni Walker
wanted to squeeze in, needed to squeeze in, but when she saw a newborn among the passengers in the crammed space, she decided to wait.
"I didn't want to suffocate the baby," Walker said.
So Walker passed up that elevator ride and waited for the next. By then, it was too late.
The 5-foot-11 senior wing at Centennial (Las Vegas) and Nevada's Gatorade Player of the Year was on her way to catch the team bus for Centennial's first game at the Nike Tournament of Champions in December.
But Walker never got to play that day. She was late getting from her hotel room to the team van, and she was benched by coach Karen Weitz.
Centennial lost, falling 46-34 to Salesian (Richmond, California). It's the only loss of the season for 31-1 and fourth-ranked Centennial, which will play No. 2 St. John's College Prep (Washington, D.C.), which also has a single loss, on Friday in the semifinals of the GEICO High School Nationals in New York. No. 1 Miami Country Day (Florida) plays No. 7 New Hope Christian (Landover, Maryland) in the earlier semifinal.
The benching was a painful lesson for Walker, who said she was late by a matter of seconds and still accompanied her team in the van to the gym.
"The rules are in place and have always been in place," said Walker, an Arizona State signee and the No. 43 prospect in the
espnW HoopGurlz Top 100
for the 2019 class. "I can't try to alter the rules. At the end of the day, I have to be responsible and own up to the fact that I was late."
In retrospect, Walker could've easily walked down the stairs from her second-floor room, but there was another issue.
"I never even knew where the stairs were," Walker said. "It sucks to miss the start of one of the biggest tournaments of my career because I didn't know where the stairs were."
The 17-year-old Walker wasn't the only player who was late for the van that day. She was just the most prominent.
She hasn't missed any games since. Weitz, who started the Centennial program in 1999 and has led the school to 11 state titles, believes in punctuality.
"You have to be waiting for the van 15 minutes early or you will be considered late, and there will be consequences," said Weitz, an All-American in javelin in 1998 at UNLV. "The girls know I won't bend. Even 30 seconds late is still late.
"Eboni started the next game, and we moved on. I don't hold it against the players once [the punishment] is done."
Overcoming tragedy
Walker has dealt with hardships much larger than a missed game. In 2009, she lost her dad, James Walker Sr., to a fatal car crash when his SUV was rammed from the side.
Delores Price-Walker, Eboni's mom and James' widow, was at a nail salon when she got the news.
She had just dropped off her two youngest kids -- Eboni and James Jr. -- at school and was calling her husband to let him know she would be bringing him breakfast.
Delores and James worked in law enforcement at the time, and she got a call from a police officer, who broke the horrific news.
"I didn't take that very well at all," Price-Walker said. "I was in a fog."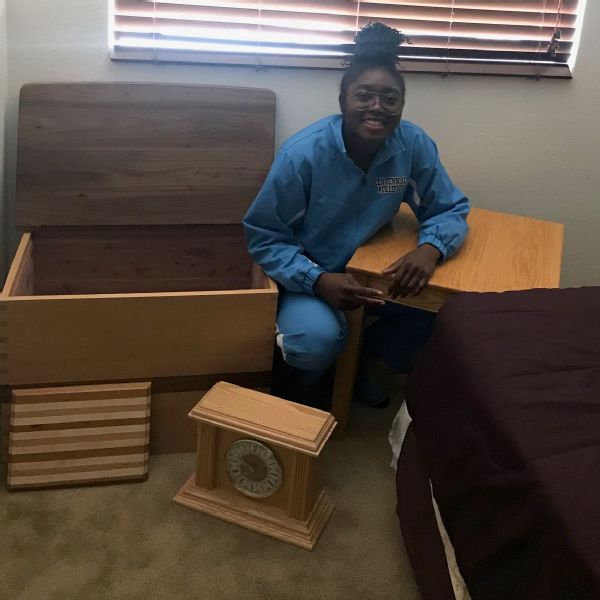 Eboni was just 7 years old at the time, and James Jr. was 6.
"I had lost my mother that same year," Delores said. "I said, 'Do you know where Grandma is? That's where Dad is, too.'
"Eboni had this blank look on her face. I can still remember that look."
Shortly after James Walker Sr.'s death, the family moved from Moreno Valley, California, to Las Vegas, seeking a fresh start.
Eboni packed with her some memories of her dad and the life lessons he imparted.
"I learned so much in the seven years with him," Walker said. "He made me who I am today. He was always positive. He always helped people without looking for something in return.
"On Saturdays, he and I would go for a drive. When we would see someone pulled over on the side of the road, my dad would help. If they had a flat tire, he would fix it, and if they were out of gas, we would buy it and bring it to them.
"They would ask my dad how much they owed him, and he said, 'Nothing. We're fine.' He just loved helping people."
James Sr. was skilled with his hands -- he loved fixing things. One of Walker's favorite classes is woodshop. She has put together desks and cabinets.
"He taught me about hard work," Eboni said. "Nothing he did was mediocre."
Delores said her daughter is definitely a "daddy's girl."
"I know she misses him a lot, but we have faith in God," Delores said. "Sometimes she remembers things about him that I can't.
"She carries herself very well. She knows her father was strong on education. She knows what's expected of her."
Rare talent
Weitz has propelled more than 30 players into college basketball, but she believes Walker is the most athletic talent of them all.
In fact, Weitz will put Walker up against any high school player in the nation.
"I watched the McDonald's All American Game," Weitz said, "and no one in the country has her energy."
That hasn't always been the case.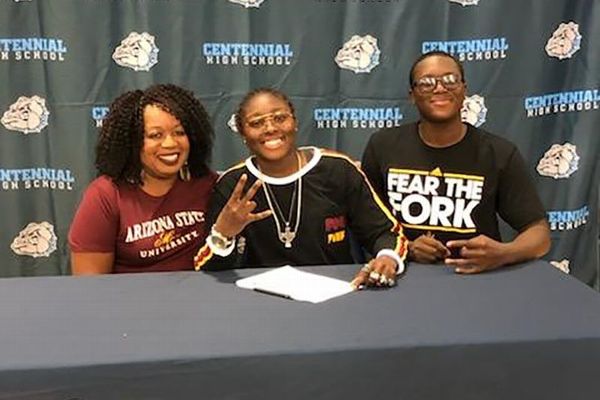 In middle school, Walker would run hard for about a minute, and then she would hit the deck, exhausted.
"You'd see me on the floor," Walker laughed.
As a freshman at Centennial, Walker had another problem. She didn't really like getting hit, and she thought her teammates were too aggressive in practice.
"She was a nice kid, and she wanted everyone to be her friend," Weitz said. "She thought the other girls were being mean to her when they fouled her. I'm like, 'Oh my gosh, Eboni. It's a contact sport. They're trying to make you better.' "
It didn't happen overnight -- not even close -- but Walker is now a force in the weight room.
Walker said that whatever weights her teammates lift, she grabs at least 10 pounds more.
"Eboni is super buff," said
Melanie Isbell
, Centennial's 5-foot-4 point guard and a UNLV recruit. "She has abs we're all jealous of, and you've got to see her biceps. She's easily the strongest girl on the team, and it's really intimidating when she starts throwing around those barbells.
"If she wanted to, she could probably lift me."
Isbell said Walker's transformation from freshman year has been astonishing.
Back then, Walker regularly got kicked out of practice due to a lack of effort.
"Knowing her potential, it was super frustrating when she would go soft," Isbell said. "Everyone was annoyed with her.
"But we had a strong senior class. They weren't afraid to get on her, and Coach Weitz was on her nonstop."
Rise up
Walker, who has family in New York, is hoping to put on a show at the GEICO Nationals.
Weitz has no doubt that will be the case, and that opinion is shared by Isbell and Centennial teammate Jade Thomas, another UNLV recruit.
Walker, it seems, can elevate her game for elite competition. Last season against Southridge (Beaverton, Oregon), Walker chased down
Cameron Brink
-- a 6-foot-4 center and the No. 2 prospect in the Class of 2020 -- on a fast break and swatted her shot off the back wall.
"I don't know where Eboni even came from," Weitz said.
Walker's teammates were stunned.
"We just froze," Thomas said. "Then we ran toward Eboni and started pushing her. We were so hyped."
Isbell said she wouldn't be surprised to see Walker do something similar in New York. "That block wasn't nice," Isbell said. "I'm trying to say this in a kind way. ... It was insane.
"Eb knows when to show up and when to turn it on for a big game. She's never afraid -- not anymore."